Product introduction:
This lithium battery cathode material sintering equipment is a bottom-loading box-type atmosphere furnace with a maximum temperature of 1400°C. The furnace material of this equipment is high-purity alumina fiber, and silicon carbide rod is used as the heating element (4 sides heating, more uniform temperature field). The furnace body can be evacuated & can pass into the atmosphere, and the material can be heat treated in an inert atmosphere and an O2 atmosphere. The hydraulic lifting platform + freely movable material cart (with positioning and limit) is very convenient for material in and out operations.
Technical Parameters:
Product number

PT-E1400-512LDZ

Furnace structure

Double-layer shell structure, equipped with a cold air system to automatically cool the furnace shell

Furnace material

High-quality and high-purity alumina polycrystalline fiber curing furnace, with good material insulation performance, high reflectivity and balanced temperature field

Maximum temperature

1400°C

Operating temperature

≤1300℃

Heating rate

Recommended ≤10℃/min

Heating zone size

800*800*800mm (width * height * depth)

Temperature Control System

With PID adjustment and self-tuning functions, and can program 30 sections of temperature rise and fall programs;

Heating element

Silicon carbide rod

Temperature measuring element

S-type thermocouple

Inlet and outlet ports

Suitable positions are equipped with inlet, outlet and vacuum ports, and there are float flowmeters and mechanical vacuum pressure gauges on the gas path

Sealing system

The furnace door and roof are sealed with high temperature silicone rubber. The furnace has an air inlet and an air outlet that can pass gas and can be vacuumed

Gas line

Float Flowmeter

Inflatable body

Oxygen, inert gas (slightly positive pressure)

Door opening method

Bottom hydraulic lift

Material car (optional)

Free moving feeder

Vacuum pump (optional)

Rotary vane pump

Ultimate vacuum

-0.1MPa

Power supply

AC220V/380V, 50/60Hz

Standard configuration

1 pair of crucible tongs, 1 pair of high temperature gloves, 1 manual, 1 certificate of warranty card

More specifications can be customized according to customer needs
Transaction process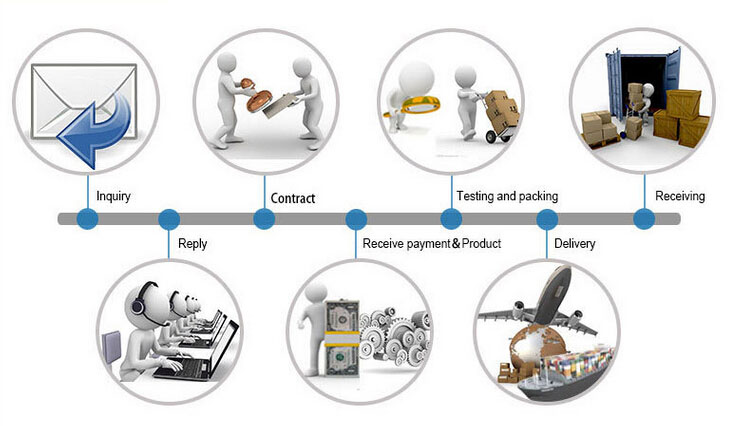 After-sales Service
1.We provide one year warranty for our equipment (Except the quick-wear part),Equipment damage or malfunction during the guarantee period due to equipment quality reasons, all be free maintenance.After the warranty expires, still offer lifetime and high quality service.
2.In case of failure in the process of equipment used, our company will make a deal as soon as possible, to ensure the normal operation of equipment.
3.Our company provide free equipment operation training and simple troubleshooting and maintenance training.
4.My company's technical staff can provide door-to-door service (product installation, debugging, maintenance, technical advice and instructions, etc.).
5.Our company provides transport services, packaging are carried out in accordance with the safety standard packing.Random complete technical data (user manual, maintenance manuals, relevant materials and accessories, random tools, etc.).
6.All the equipment has the CE certificate.
 Contact US